Australian Pokies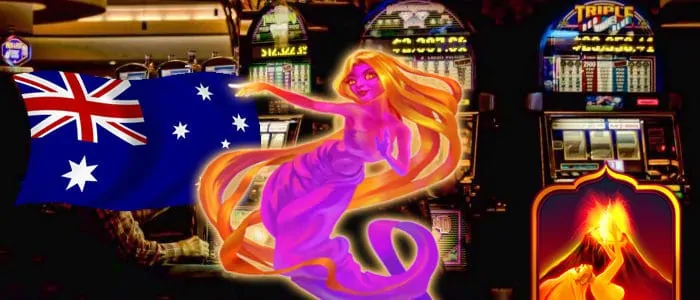 Best Online Pokies Australia Review
Australian's have a love affair with gambling and in particular pokie machines. For over 50 years pokies have dominated the Australian Casino landscape with a flood of machines. Developers include Aristocrat, Ainsworth, Konami and Gamblit. Today it is estimated each year Australians lose $12 billion on them. Roughly $650 per adult. Around 4 per cent of the population in Australia plays pokies more than once a week. As a result 200,000 slot machines flash and sing throughout each of the 6 Australia states in sports venues, licensed casinos, pubs and clubs.
The first slot machine was developed by Len Ainsworth and Joe Haywood in the early 1950s. They called their company Club Man and developed a series of Poker machines. "Initial contract in the first place was for two machines a week, and within a week he was back saying 'could he have four a week?'" Ainsworth remembers. "Then another week went past and it was eight a week, then it became 16 a week and then it became 32. Each time Joe said, 'can do'." As a result a huge rapid rise of pokies in Australia created multi billion dollar manufacturers including Ainsworth and Aristocrat. Today the industry is seeing a decline in traditional land based pokies and the emergence of online mobile play. This is why we are providing all the latest Australian style pokie machines available to play on mobile and tablet.
Online Pokies Australia No Deposit Bonus
Best Free Online Pokies for Australians
With the widespread adoption of the internet in the late 20th Century the noughties have seen an influx of online developers. These include Quickspin, Yggdrasil and Betsoft. As a result the quality of online slots has improved considerably. Today Australian's can enjoy instant free slots on tablet, desktop PC and mobile smartphone. The best games are being released each month and include all the exciting features found in poker machines. Interactive bonuses, free spins, progressive jackpots and the best graphics are found on today's online pokies. Australians are welcome to play any pokies free with unlimited credits.
If you want the best, you have found the best pokies Australia Reviews by visiting King Pokies. We review not only the best online pokies australia no deposit bonuses but also provide the best free online pokies for Australians. No need to wait hours for a game to download or deposit real money. All of our exclusive pokies from leading developers are free to play with no download required. It's tough finding a reliable source for all quality slots that are fast and easy to play. That is why we highly recommend the following free pokies no download.
Load More
Australian Pokie Machine Terminology
Bonus is a special feature which is triggered when certain symbols appear in a winning combination. Bonuses vary depending upon the pokies game. Some bonus rounds are a special session of free spins or an interactive player selection bonus with winning credit values increased by a specific multiplier.
Multiplier when a special symbol or round of free spins multiplies your winning by a number.
Coin hopper is a container where the coins that are dropped into. The hopper is a mechanical device that spits coins into the coin tray when a player presses "Collect".
Credit meter is a visual LED display of the amount of credits on the machine.
Free Spin is a term used for a round of spins with no charge to the player. Free spins can get triggered by a number of symbols and combinations, each pokie uses a different method. Usually free spins are won when 3 or more scatter symbols appear. Other ways include at random or with special combinations. A single free spin is sometimes called a respin. Once triggered free spins are see by players as the best way to walk away a winner.
Payline is a line that crosses through symbols along reels to determine a winning combination. Classic spinning reel machines usually have up to nine paylines, while modern day video slot machines may have as many as one hundred. Paylines are of various shapes including horizontal, vertical, oblique, triangular and zigzag.
Scatter Symbol is a symbol that works differently to standard symbols and award a prize whether they are placed on a pay line or not. The player still needs to get at least two of them in modern slot games to win a prize. The number of free spins won are often determined by the amount of scatters. For example 20 free spins may be won for landing 3 scatter symbols anywhere on reels.
Wild Symbols act like joker cards in a slot game. They basically substitute for all other symbols in the game, except for scatter. They can appear on any of the reels and are one of the most desired symbols. In online slots, the wild symbol can determine jackpots, multiplying the prize and/or triggering a certain feature.
Mobile is when the slot machine is hosted for online gambling and available on smartphone, tablet, or other portable device. Most operate off HTML5 technology and the advancement of mobile browsers has reduced the need for standalone mobile apps. Modern day online pokies are playable on both mobile and desktop PC devices.
Social Gaming These days there are various social gaming platforms where players can enjoy slot tournaments with friends. These include the Heart of Vegas app and Lightning Link real money pokies.